Above: 2001 site overview
Virtual tour of Herculaneum, documenting the site, and the work of the Herculaneum Conservation Project. Click on the node-markers to view interactive 360-degree panoramas.
The plan above shows the locations of panoramas made mainly in 2001 (a few are from 1999), where the aim was to provide an overview of the site (as it was then), along with tours of a few selected houses. The menu of houses and other areas at left accesses additional, more recent coverage (including revisits to some houses and other structures) made from 2003 onward.
For expanded views of some of the more crowded areas in the above plan, click these links: Theatre; Central Baths; College of the Augustales/Curia; Casa del Colonnato Tuscanico; Casa dell'Alcova; Suburban Baths.
Click the thumbnail image below for a panorama of the site seen from the south.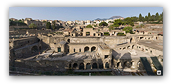 Update 2016/2017: New panoramas made in 2016 are now being added. Major updates to Casa dell'Atrio a Mosaico, Casa dei Cervi, Casa del Mobilio Carbonizzato, Casa di Nettuno e Anfitrite, Casa Sannitica and Decumano Massimo. Code reworked so that QuickTime and Flash are no longer required to view the 360° panoramas and objects; that content should now also be viewable on devices such as iPads. The Then & Now section has been reworked, and the still images galleries expanded.
Update 2012: New scans made from the original negatives for all panoramas on this page.
Update 2010: Spherical panoramas, made in July 2009, added. These include views from the then new northern escarpment walkway (see Decumano Massimo), updates for the Villa dei Papiri, and the recently re-excavated Bourbon-era tunnels at the Basilica di Nonio Balbo.
Click below for a plan of the site including the Theatre and Villa dei Papiri to scale.