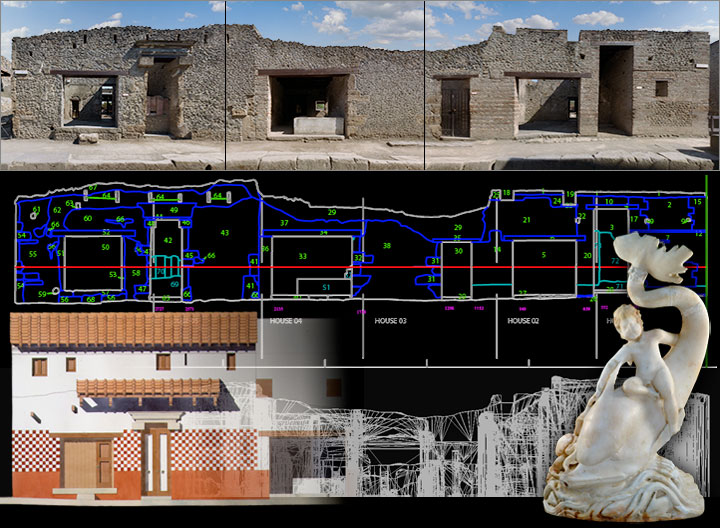 Most of the excavation of this block of houses (Region I, Insula 9) was completed in 1951-1952. This site showcases some aspects of the British School at Rome's Insula I.9 project, including 360-degree interactive panoramas and objects, 3D modelling, reconstructions and artwork.
The project was undertaken between 1995 and 2009 in collaboration with the Soprintendenza Archaeologica di Pompei under Professor Pier Giovanni Guzzo, and subsequently with its successors, most recently the Parco Archeologico di Pompei under the direction of Professor Massimo Osanna. Financial support was received from the European Union under the Horizon 2000 programme, The British Academy, the British School at Rome and Enterprise Oil Plc.
Click on the image below for location map and plan of the block.

---
POMPEII INSULA I.9 PROJECT
Director
Andrew Wallace-Hadrill
British School at Rome
Director of Excavations
Michael Fulford
University of Reading
Archaeological Recording of Standing Structures
Sophie Hay
Christina Trier
Study of Finds and History of Insula I.9 Excavations
Joanne Berry
Computer Recording and Database
Raphael Helman
Jason Helman
Marie-Noelle Janssens
Justin Snell
Watercolour Reconstructions
Nicholas Wood
---
Special thanks also to
Eric Anderson | Frances Billot | Mattia Buondonno | Maria Pia Malvezzi | Tom Stevenson | Marcus Wilson