Pompeii: Insula I.9 project
In collaboration with The British School at Rome. A block of houses at Pompeii (Region I, Insula 9) originally excavated in 1951-1952, had since the 1990s been the subject of a research project by the BSR. Still images, interactive objects, and in particular, 360-degree panoramas were made to document each of about 100 rooms and other spaces in the dozen or so houses making up the insula.
Exhibitions: Pompeii, Insula I.9: Panoramas & Artefacts: 2003, The Governor's Gallery, University of Auckland; 2004, The British School at Rome. Articles: The University of Auckland News, July 2003.
Below: a selection of still images from interactive object 'movies' made of artefacts recovered from the insula. See the 360° Objects section for interactive versions.
Link: www.donovanimages.co.nz/proxima-veritati/insula-9


Herculaneum
A campaign of panoramic and conventional still-image documentation of the archaeological site of Herculaneum (near Pompeii); in particular to document the work of the international conservation effort going on there (a partnership between The Packard Humanities Institute, La Soprintendenza Archeologica di Pompeii and the British School at Rome).
Exhibition: a selection of large photographic prints of the panoramas shown in Rome at the BSR during 2004.

| | |
| --- | --- |
| | 2011 saw the publication of a new book on Herculaneum, Herculaneum: Past and Future by Andrew Wallace-Hadrill, Director of the Herculaneum Conservation Project. Many of the photographs made for the Project are reproduced in it, including a number of four-page-wide gatefolds of selected panoramas. |
Link: www.donovanimages.co.nz/proxima-veritati/Herculaneum


Hilandar Monastery, Mt Athos
A collaboration with senior lecturer Michael Milojevic from the University of Auckland's School of Architecture. A combined research, teaching and student study abroad project investigating the Byzantine architecture of the Athonite monastery of Hilandar, Mount Athos, Greece. Exhibitions: Hilandar Panoramas: shown at The Governor's Gallery, University of Auckland, and a number of other venues overseas. Articles: The University of Auckland News, November 2001; Ingenio, Spring 2003; New Zealand Architecture, March-April 2002. Elements from this project also formed a section of a book describing selected UNESCO World Heritage sites, ‪Disappearing World: ‪101 of the Earth's Most Extraordinary and Endangered Places (Harper Collins, 2008).
Less than a year after the 2003 visit, a fire devastated much of the fabric of this remote monastery, rendering the photographic panoramic coverage all the more valuable, as a record of now vanished parts of the monastic complex.

See the Hilandar section of the 360° Panoramas page for a few examples of panoramas and the Hilandar image-series in the Other Imagery/Image Collections section.

Gallipoli: Battlefields and Memorials
A commission from the New Zealand Ministry for Culture and Heritage to produce photographic panoramas of the battlefields and memorials at Gallipoli to mark the then forthcoming 90th anniversary commemorations. Exhibition: Gallipoli Panoramas, Governor's Gallery, 2005. See the Gallipoli section of the 360° Panoramas page for examples of panoramas and the Gallipoli image-series in the Other Imagery/Image Collections section.
Link: www.anzac.govt.nz

Butrint
Invited by Professor Richard Hodges, then Scientific Director of the Butrint Foundation, to make panoramic and conventional stills documentation at Butrint (ancient Buthrotum) an important archaeological site spanning Hellenistic to Ottoman times, and a UNESCO World Heritage Site, in south-west Albania. Images from this project were also later published in Richard Hodges' book Eternal Butrint (Butrint Foundation, 2006) as well as in other publications and Annual Reports of the Foundation. See the Butrint section of the 360° Panoramas page for a few examples of panoramas.
Link: www.butrintfoundation.co.uk


Proxima Veritati
Immersive, interactive, 360-degree panoramas of ancient sites in the Greek and Roman Mediterranean world. Available as two web-based volumes: one covers Greece (the Greek mainland and the wider Greek world) while the other covers Rome and the Roman world. Intended as a specialist teaching and research tool for professionals in the areas of Classical Studies and Ancient History. A collaboration with Auckland's Department of Classics and Ancient History. The material is widely used for teaching: at the University of Auckland, other New Zealand universities and high schools, and at a number of overseas universities. For enquiries see contact details on the Contact page.
Click the thumbnails below for a selection of screen shots from the Greece, Magna Graecia and Asia Minor volume.


IATH Best Practices Guide to Digital Panoramic Photography
I was invited by Professor Bernard Frischer in 2006 to a workshop at the University of Virginia's Institute for Advanced Technology in the Humanities to contribute to this project, written for researchers and photographers looking to use digital technology to build digital panoramas of cultural heritage sites, architecture, and art works.
Link: www2.iath.virginia.edu/panorama/


Selinus Observed
With Michael Milojevic, School of Architecture, University of Auckland. The archaeological site of Selinunte, Sicily; 360° panoramas, stills, and interactive objects contributing to this research and teaching project (the artefacts from the Museo Archeologico Regionale, Palermo).
A poster paper that I authored on one aspect of the project (the artefacts) was presented at the 2007 13th International Conference on Virtual Systems and Multimedia won Best Poster Award for that year.
Link: Poster paper: Exceptional Access: Re-presenting Ancient Selinus Virtually

Milan Mrkusich book
Photographs of paintings by New Zealand's leading abstract painter for the book Mrkusich: The Art of Transformation working with the authors, Alan Wright and Edward Hanfling.


A Day in Pompeii
I designed and produced two touch-screen interactive displays included in this major exhibition featuring frescoes, sculptures and objects from Pompeii, (developed by Museum Victoria, Melbourne in association with the Soprintendenza per I Beni Archeologici di Napoli e Pompei). One of these (at right above) was based on my own panoramas (from the Proxima Veritati series) of key locations throughout the town, while the other (two instances of which are seen at left above) allowed viewers to navigate a Roman house, encountering and viewing rotatable household objects (based on my artefacts work from the Insula I.9 project outlined earlier).
At Melbourne (2009) more than 330,000 people visited the exhibition, making it the most popular travelling exhibition ever staged by an Australian museum. After its Melbourne run the exhibition travelled to other international venues, including the Museum of New Zealand Te Papa Tongarewa, National Museum of Singapore, Denver Museum of Nature and Science, Cincinnati Museum Center, Boston Museum of Science, and the Franklin Institute at Philadelphia.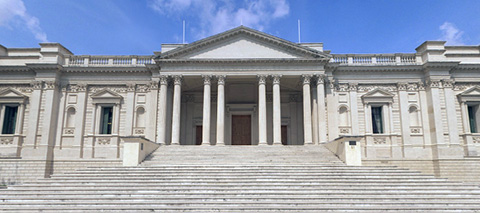 The British School at Rome: virtual tour
During visits to this important humanities research institute (and one of the most prestigious foreign academies in Rome) whose Director and staff facilitated much of my work in Italy, I made panoramas documenting the School to provide a 'virtual tour'.

Roman Sculpture
An interactive DVD developed for teaching at the University of Auckland's Department of Classics & Ancient History. Bringing together numerous images of Roman sculpture that I had accumulated. The sculptural pieces are grouped by type and able to be interactively enlarged on screen. Click on thumbnails below for example screen shots.

3D models of Roman houses: Herculaneum
Two examples from a series of stylized, simplified 3D models of house plans from the site of Herculaneum, used in the book Herculaneum: Past and Future by Professor Andrew Wallace-Hadrill. Floor plans were created in Adobe Illustrator, then exported to a 3D application for modeling and rendering.

Gus Fisher Gallery
Panoramic documentation of exhibitions at Auckland's Gus Fisher Gallery at the Kenneth Myers Centre. Above is a frame from a panoramic series made of the 2010 exhibition, Looking Terrific: The Story of El Jay. This was followed in 2011 by similar coverage of the exhibition Crown Lynn: Pottery for the People.
Link: Looking Terrific: The Story of El Jay; four 360° panoramas

The Open University: House of Menander
Extensive panoramic documentation of this important house at Pompeii, originally made for the Proxima Veritati project, used as part of a Classical Studies course at The Open University (working with Phil Perkins, Professor of Archaeology, Department of Classical Studies at The Open University, 2012).
The 360° image above is of the house's atrium, looking toward the peristyle garden beyond. (The distinctive curvilinear perspective is common to all panoramas made with rotating cameras; but when the panoramas are viewed interactively on a computer display, this is transformed to 'conventional' rectilinear perspective.)


Churches on Temples
One aspect of an extension to the Sicily projects for the University of Auckland's School of Architecture; panoramic imagery of two Greek temples later transformed into Christian churches. Click here for more on this.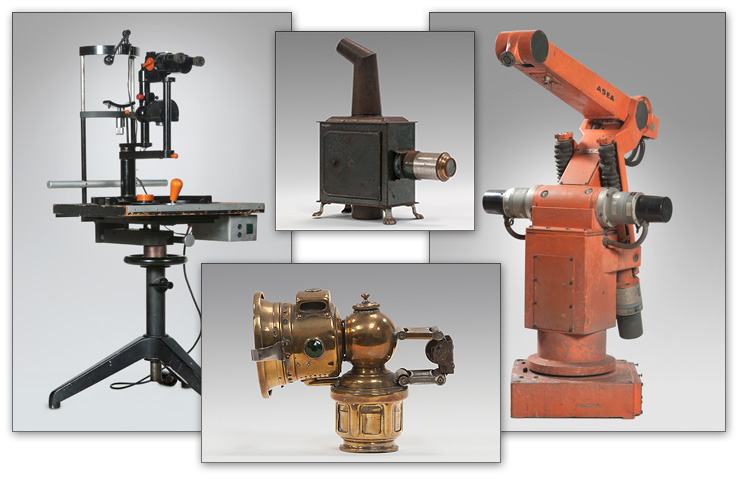 MOTAT
Documentary images made of numerous objects in the collection of Auckland's Museum of Transport and Technology (MOTAT). A typical example of their use on the MOTAT website can be seen here.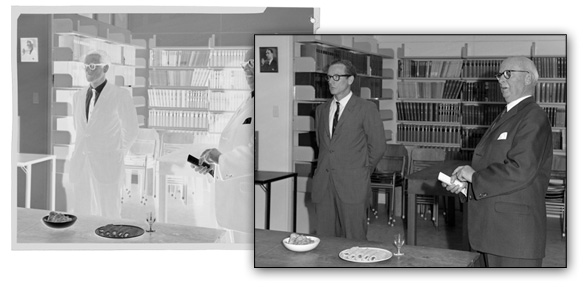 Vivat Academia
Images from the archive of the photographic section of the University of Auckland's old Audio Visual Centre. The earliest pictures are from the 1960s. In 2011 I curated an exhibition of a selection from the archive, Vivat Academia, shown at the University's Governor's Gallery. Click here for a PDF version.